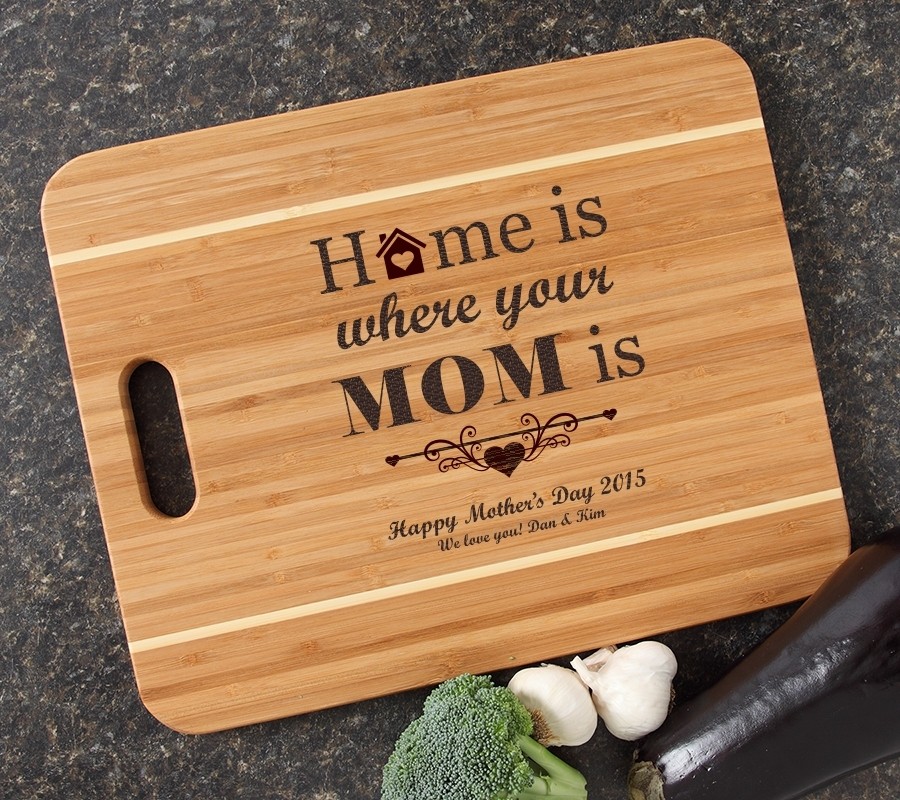 Personalized Cutting Board Engraved 15x12 Handle DESIGN Mom
CBA-Mom
Product Details
The graceful curves and fine detailing of this Asian inspired bamboo cutting board offers a sophisticated look for any kitchen décor. Vanilla colored accent lines contrast the rich caramel bamboo for a beautiful presentation piece with a three inch handle on the left. Exquisitely crafted from 100% natural bamboo for its strength, density and versatility this 15 x 12 x .675 inch cutting board is not only beautiful, but a functional cutting surface as well. Clean up is a breeze, just use soap and water. Each board is treated with mineral oil to seal and protect it. We recommend that you oil your bamboo cutting board periodically, as needed, to maintain its excellent condition.
Why Bamboo?
A highly renewable, ECO-FRIENDLY natural resource, bamboo is growing in demand nationwide. A personalized bamboo cutting board is a gift you can feel good about giving!
Bamboo absorbs very little moisture, does not shrink or swell and is actually harder than most hard woods, making it a SUPERIOR MATERIAL FOR CUTTING BOARDS.
No two pieces of bamboo are the same, each piece will vary slightly in color and grain pattern. The laser engraving is a burning process and each piece of bamboo engraves differently. Please allow for color and depth variations.

PERSONALIZE ONE SIDE OF THE BAMBOO CUTTING BOARD AND USE THE OTHER SIDE FOR FOOD PREPARATION!
*Refer to the FAQ page for order and shipping information.
**You may request a proof in the "Additional Comments" box.
Save this product for later