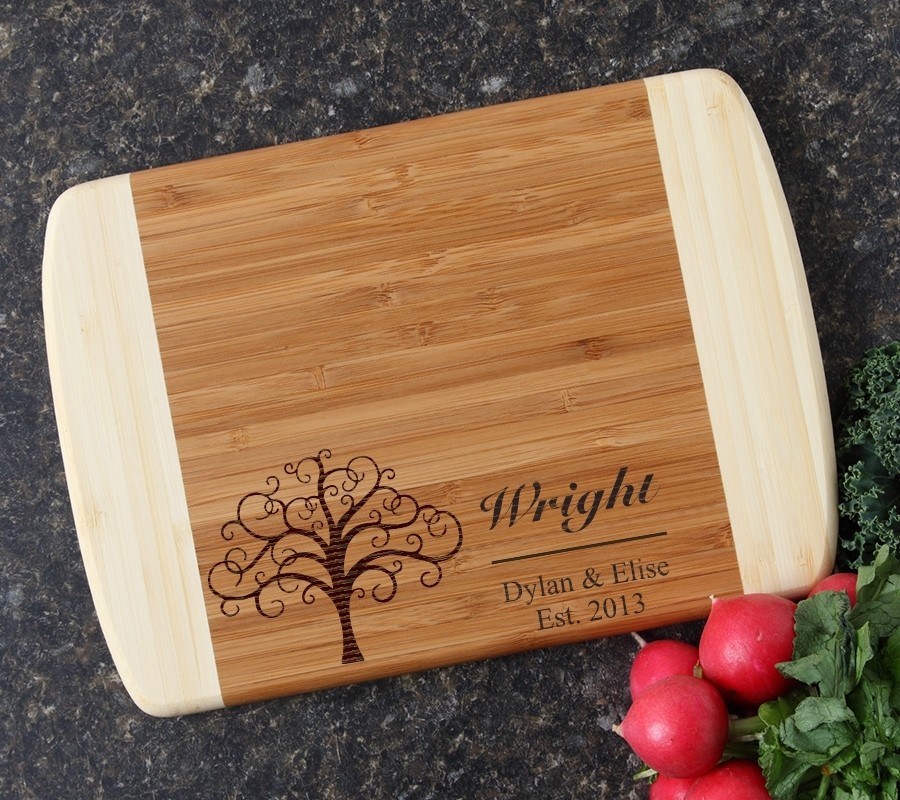 Personalized Cutting Board Custom Engraved 10 x 7 DESIGN 18
CBG-018
Product Details
Personalized bamboo cutting board, custom laser engraved for all of your gift-giving needs.
Create the look of natural serenity throughout the kitchen with the Eco-friendly beauty of bamboo. This exquisitely crafted board can be used as a functional cutting surface as well as an elegant presentation piece.
PRODUCT INFORMATION-A two-tone personalized, custom engraved bamboo cutting board is as stylish as it is functional. A warm honey tone shows off the rich grain of bamboo while the pale sides create a beautiful contrast. A perfect cocktail board for entertaining or for easy everyday use, it measures 10 x 7 x .625 inches. Slice a tomato, chop an onion or cut up a lime or lemon for a refreshing beverage, this two-tone cutting board is multi-functional for any busy kitchen! No two pieces of bamboo are the same, each piece will vary slightly in color and grain pattern. The laser engraving is a burning process and each piece of bamboo engraves differently. Please allow for color and depth variations.
ENGRAVING-Be sure to include information exactly as you would like it engraved. Choose a font from the font option image in the listing, or select the font on the example. You may request a proof of your design in the "Additional Comments" box.
SHIPPING-Shipping is standard USPS. Please allow 3 to 7 business days after date of purchase for your order to process; this does not include shipping time. If you need your order faster, upgrade to Priority Shipping.
CARE-Hand wash with soap and water. The bamboo cutting board is treated with mineral oil to seal and protect it. We recommend that you oil your bamboo board periodically, as needed, to maintain excellent condition.
Save this product for later